Getting that gold in WoW: Battle for Azeroth 8.3 was always a grind. Yet, those who knew this game since Classic can tell how much more diverse the ways to richness became. So let's look at the bigger picture and step back from creating an alt army and playing the auction house. There are other approaches that can be more interesting and rewarding. Maybe, these money making methods will inspire you to create your own way.
Reputation contracts
If you chose Inscription for your profession, you can buy required recipes to craft contracts for reputation improvement with Rajani and Uldum Accord. They're always in demand and you shouldn't have any issues making money on selling them on the auction.
Even if you have another profession, you still can make a profit on reputation contracts. Simply follow the prices on the auction, and if they go low — buy as many of those contracts as you can to boost the market and sell them for a higher price.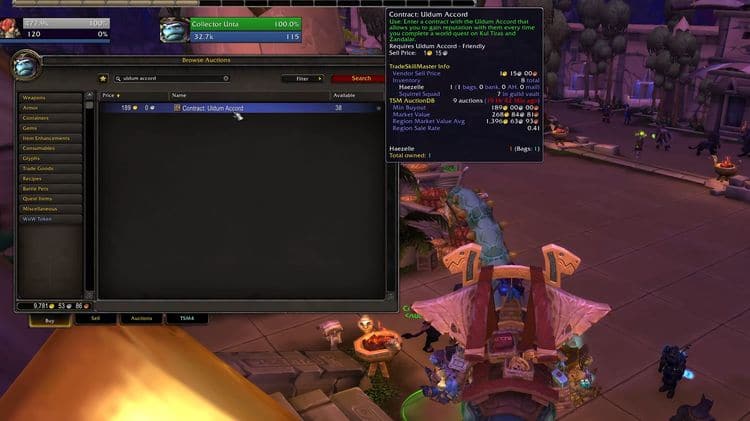 Cooking is always profitable
Improving the cooking skill in WoW: Battle for Azeroth 8.3 is rather difficult with the constant lack of recipes to use for leveling up and farming ingredients in different locations. That's why both food and ingredients are expensive enough for you to pay attention to this secondary profession.
The most profitable dishes in the 8.3 patch are Ghastly Goulash and K'bab. They're made with Aberrant Voidfin, Malformed Gnasher, and Questionable Meat. So in addition to the cooking skill, you also should have fishing on a decent level. Uldum is the best place for farming both meat and fish — look for meat in Bonepickers. However, meat is cheaper than fish, so it's worth your time only if you use it for cooking.
You can sell either of these dishes, or you can just stick to selling the fish — watch the prices to understand what will be more profitable to throw in the auction. Not many players want to spend time farming the items, so you can earn some money off their laziness. As both kinds of fish are used for getting Aromatic Fish Oil, you might make quite a profit.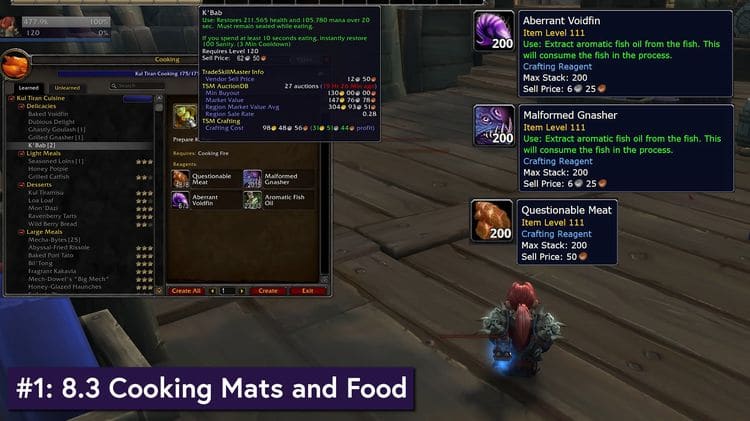 Another reason why you should invest time in cooking is the Famine Evaluator and Snack Table. Guilds are buying it for raids quite actively, so you can take advantage of that. There is one detail you should pay special attention to — you can sell both F.E.A.S.T.s and Viper Fish used for cooking the dish. The latter is a pain to farm, so you might get a good buck from selling some.
Alliance only — Jellies
Jellies are required for gaining a reputation to get the Honeyback Harvester. So gathering jellies is a nice way to make a profit of the laziness of others once again. If you already have Beeholder's Goggles, it will be very easy for you to find deposits and get as many jellies as the zone has. Just don't forget to convert the loot to Royal Jellies before selling.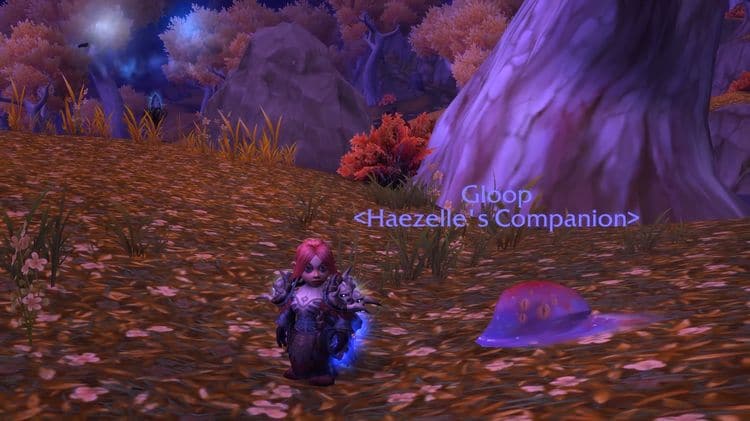 World quests for both reputation and gold
It's a straightforward way to gain money, and it's quite a grind. But if you complete world quests along with farming, you can see yourself getting significantly richer. It's also a good method if you don't have that much time to play — quests are easy and quick to get done with. So don't overlook this kind of boring approach as it's still useful.
Ny'alotha BOE gear
You can just clean the raid and get the Bind on Equip loot to sell it later. This might take quite a lot of time because luck is tricky sometimes. Or you can just search for the cheap gear on the auction, buy it, and wait a bit for a price to go up to sell. Look for Infinite Starts and Twilight Devastation as these Corruptions fit different players.
Learn herbalism
Herbalism always was a quite effortless way to make money, especially along with alchemy. In WoW: Battle for Azeroth 8.3 Zin'anthid is still a very popular herb as it's required for making lots of potions that are used in raids. This reagent will bring you just as much money as jellies, but you will probably face less competition here as the herbalism skill is needed.
But don't focus just on Zin'anthid. There are many other BFA herbs that are quite expensive on the auction. Follow the prices to see what you should farm — it will help you out if Zin'anthid gets quickly gathered by other players. You can use the same old trick with buying out all the lots of herbs that became cheaper to increase the demand and then selling them for a higher price.
If you're an alchemist as well, you will get lots of money selling potions, especially considering Silas' Potion of Prosperity and procs from rank 3 recipes. Enchanting is still a quite demanded skill, but its value dropped down a bit in the 8.3 patch.
New gold-making methods in Wow 8.3: video
Hunt for rares
In 8.3 there are available rares in Uldum and Vale, and some of them will drop rare mounts and pets. For example, a rare mount drops from Ishak of the Four Winds that spawns during Black Empire Assaults in Uldum, and Yiphrim the Will Ravager found in Neferset drops a toy. The Forgotten in the Vale drops K'uddly that you can sell for quite a good price.
All the items are still in demand and can bring you profit. However, it's a hassle to kill rares — they're hard to hunt, and the drop rate is not 100%. Yet, it's a way to make money, if you like hunting rares.
Of course, there can be more ways to make gold in WoW: BFA. These ideas are the most popular approaches, and you can always come up with something unique. Until then, feel free to try any of the listed methods. And don't forget that you always can combine them with creating alts. Also, most of the approaches involve playing the auction house — that's a valuable skill to learn if you want to become rich in World of Warcraft.