Like your games grand and full of re-imagined legendary characters in real life lore to fight with? Check out Fate/Grand Order especially with their newest event inspired from their anime series of the same name!
For the uninitiated, Fate/Grand Order is a mobile game from developer Delightworks and publishers Aniplex. The game's story is based on the Fate franchise by Type-Moon. The Japanese version of the game was released in 2015 while the format for a wider North American audience was released in 2017.
About game
The game's plot revolves around playing a Master who commands entities known as "Servants" for combat battles that are emulated in this mobile phone game through turn-based tactics.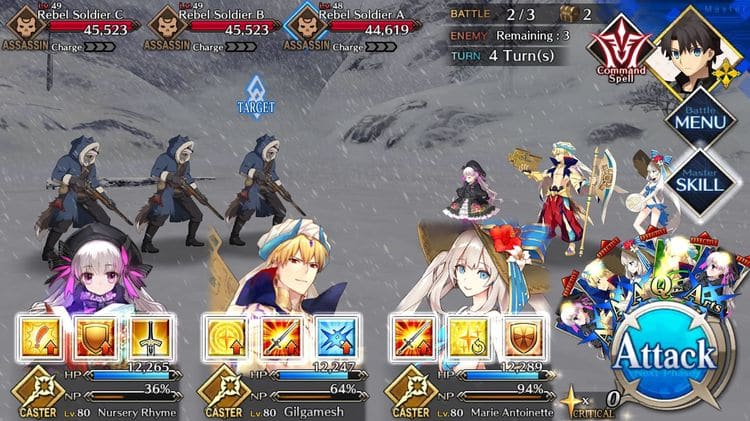 The stories are presented similar to visual novels type roleplay makers and players can enjoy different scenarios when interacting with their chosen Fate Servants.
The game attracted people who know the Fate franchise due to the number of animated series and movies it has created over the years. As of recent, the game's Japanese server has celebrated download times of more than twenty million.
"Apocrypha/Inheritance of Glory", as it was officially called, is a special Fate Grand Order Apocrypha game event set only at a limited time run from the 24th of April until the 7th of May).
Their channels of social media such as Twitter and Facebook had announced last month this event days before it started. Other posts included scheduled updates of battles connected to raidings.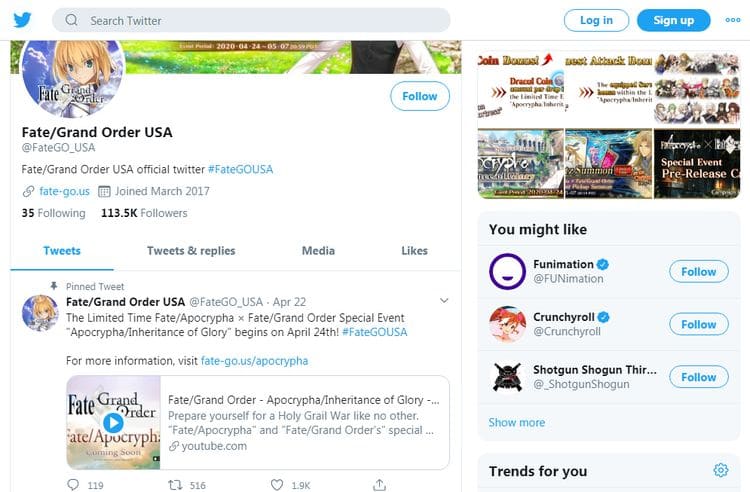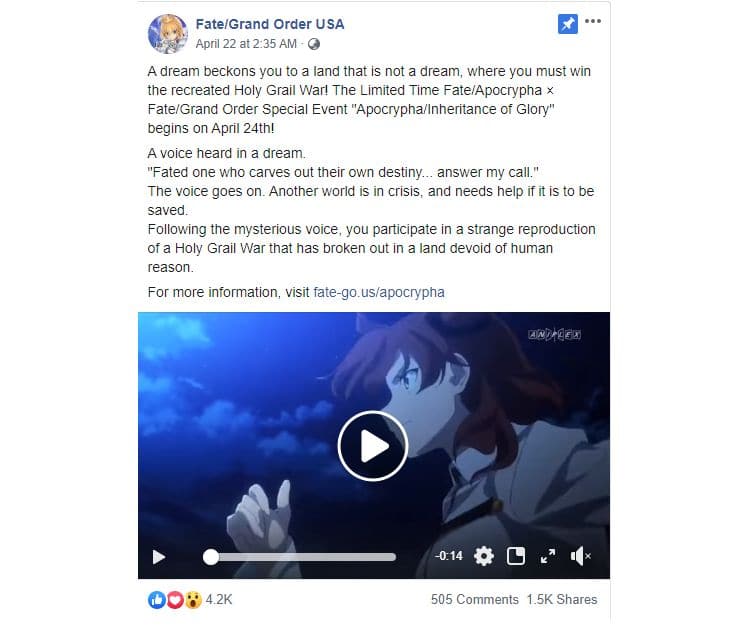 The Alternate Fate/Grand Order Storyline
Fate Grand Order is about an ordinary teenager (the player) trying to save humanity from impending destruction, after finding out they have the capabilities of being a mage. Players are sent through time travel to fix anomalies in various points of human history (or in alternate timelines that may cause the proper timeline to become distorted). The player, deemed as humanity's last Master, can call upon Heroic Spirits, figures of human mythology or history, to fight on their behalf during combat missions.
In the story of the Fate/Apocrypha event, the player gets summoned by a dragon to an alternate world resembling the setting of the Fate Apocrypha anime. The dragon who turned out to be the victor of the anime's Greater Grail War, Sieg, asks for the player's help in restoring order… as the Greater Grail War that ended long ago kept on repeating and repeating, as if stuck on a time loop. Sieg is accompanied by two Heroic Spirits: the greek hero Achilles and his mentor Chiron. Together, they must find a way to stop the Grail War from repeating, and figure out the cause of this anomaly.
FGO Apocrypha Event Guide for New Players
The Fate Apocrypha event is only available to players once they have finished the Orleans Chapter in the main storyline. A week before the actual event, there will be limited quests where players can gain Craft Essences (equipment for Servants) that increase the Experience Point gain rate of player characters during missions.
The event proper contains a Point Reward System where players collect Dracul Coins and gain prizes according to the amount of coins they have.
Fate Apocrypha Quests can either be regular quests or Raid Quests, where players worldwide battle a specific number of enemies with a humongous health pool. Players can repeatedly battle versions of said bosses with much smaller HP pools. All the damage dealt by players are accounted for when measuring how much health the boss has left overall. Defeating different bosses will grant various item drops.
On average, finishing a Raid Battle takes about 5 to 10 minutes. You can fight Raid Bosses repeatedly until their allotted time runs out, or until their total HP Pool is reduced to 0.
It is recommended for both new and experienced players to focus on the Raid Quests during the first week of the event, as they are only around for a limited time and because they are good opportunities to gather materials and in-game event currencies. New players can also make use of various giveaways the event has to offer…whether it be items, QP, or a free new Servant.
Recommended Servants
New players can try rolling for either Achilles or Chiron in the Event Summon Banner, as both are powerful units to have around. Another Servant they can capitalize on is the event's Welfare Servant (a term for a free Servant given during events), Sieg.
Sieg will temporarily be accessible to players unless they finish the event's Main Story. Do note that these three have a 100% attack power increase during this event as they are newly added to the game's Servant Pool, so make the most out of them. Also, Sieg has an Area-of-Effect Noble Phantasm which can be used for farming resources.
Aside from the three members of the Fate Apocrypha cast listed above, both Musashibo Benkei and Georgios (who can be obtained from the Friend Point Summon Banner) have a 20% increase in Attack Power for this event. They also have good inherent defensive skills and taunts, so they're convenient to have around.
If Raid Quests become difficult, you can always borrow Servants from your friends who are more experienced players.
7 Recommended Craft Essences
Fate/Apocrypha (one of the two Craft Essences aka CEs obtainable from the pre-event limited quest alongside Pray Upon the Sword, Wish Upon Life) can increase the Experience Point gain rate of Mystic Codes (the Master's costumes which have various effects. The higher the Mystic Code level, the better the effects become).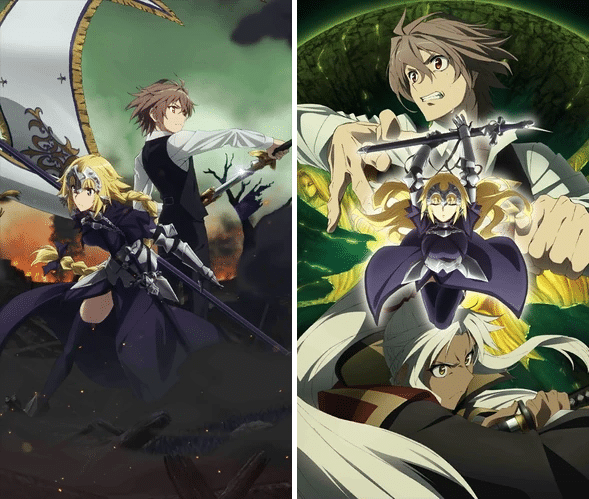 Pray Upon the Sword, Wish Upon Life is a good CE to have around for new players who wish to level up faster.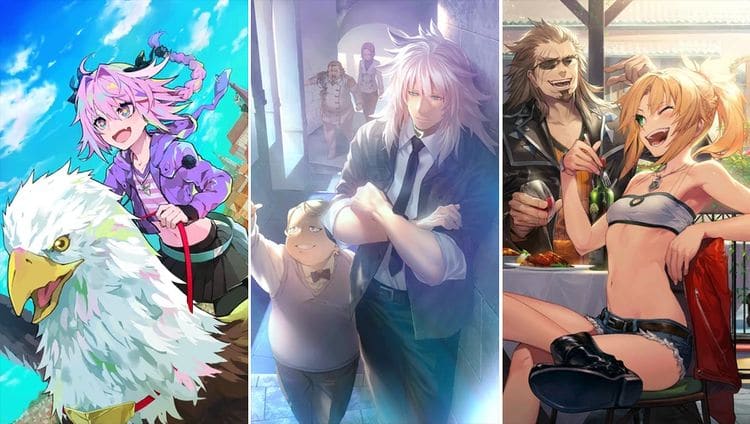 Away We Go! is very useful because they increase the amount of Hippoplushies you gain . They also work well with Quick-focused Servants, like Achilles.
An Afternoon at the Fortress (a purchasable CE in the Event Shop) helps gain extra Dracul Coins to unlock more good items. Get multiple copies of this ASAP.
At Trifas (a Point Reward once you gain 400,000 Coins; and you get more copies as you progress) grants any Servant a 100% Attack increase for the event. Equip this on any powerful Servant you have, preferably those with Single-Target Noble Phantasms especially during Raid Quests.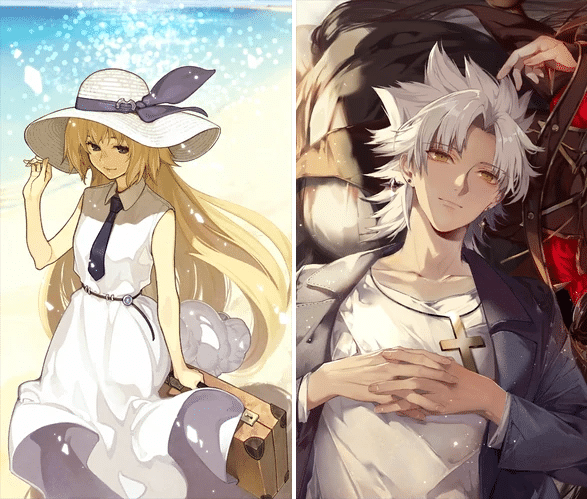 Distant Pilgrimage, like Away We Go!, can be obtained through Event Summon. Equip this to gain extra Sage's chalk, or for Sieg to be able to use his Noble Phantasm more often.
Moment of Bliss, another Event Summon CE, increases the amount of Fragment of Iliad pieces dropped.
FGO Game Tips for Veteran Players on Apocrypha Event
Most of the event's main gimmicks are already mentioned in the Guide For New Players chapter above. For this section, there will be additions to the already established tips above.
Recommended Servants
As Achilles, Chiron, and Sieg are new to the Servant Pool and have a 100% Attack increase for the event, the rest of the Fate Apocrypha cast will have only 50%.
Berserker Kintoki and David (both with a 20% Attack Boost for this event) are strong attackers with Single-Target Noble Phantasms, making them effective against Raid Bosses. Not to mention, David's second skill can grant the party a 1-turn Evade buff, making him handy in case you need an in-case-of-emergency defense mechanism against a Raid Boss' AoE Noble Phantasm.
Considering we have a good number of male Servants as Raid Bosses, it wouldn't hurt to bring out Euryale and Orion (especially against Siegfried)
We also have Anti-female units we can use, and Carmilla can dish out good damage during Raids (a good candidate for At Trifas).
Anti-Divine Servants work well against the likes of Semiramis, Karna, and Chiron.
Some Single-Target welfare Servants can work wonders especially when you have At Trifas equipped on them. Rider Kintoki, for example, is too good to pass up against Caster or Berserker enemies.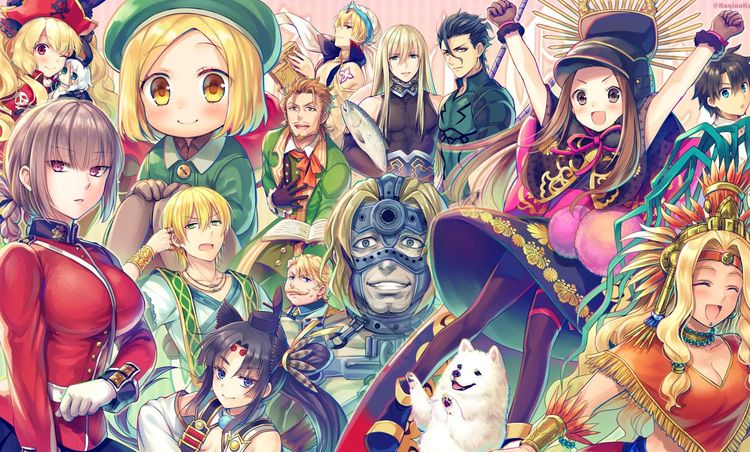 Overall, it is advised to use Servants with powerful Single-Target Noble Phantasms as they can deal big damage. Equip At Trifas on them so you can clear Raid Battles more smoothly.
Ideal Craft Essences
Away We Go! copies can either be obtained through Friend Point Summon or Event Summon. Having more than one copy in your party greatly increases the amount of Hippoplushies you gain so you can have more rewards.
An Afternoon at the Fortress not only gives extra Dracul Coins to net prizes like Crystallized Lore much faster, it is also helpful for Buster-Arts Servants like Siegfried and Vlad III. Otherwise, they can be equipped on your Support Servants like Merlin or Waver so your attackers can use At Trifas and you can still gain a good amount of Dracul Coins.
At Trifas makes non-Apocrypha Servants like Rider Kintoki and Foreigner-class Servants hit harder, especially if you are up against Spartacus, Fran, or Vlad III in Raid Battles.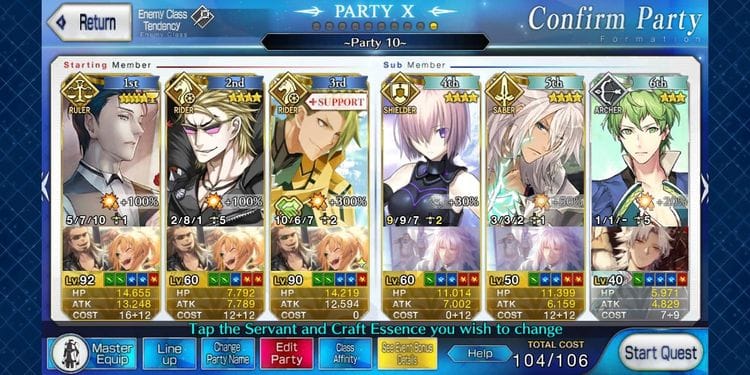 Take this sample setup, for instance. Servants who are not related to the Fate/Apocrypha anime like Sherlock Holmes and Rider Sakata Kintoki gain power-ups from At Trifas. Achilles, on the other hand, gains more power than what he already has when he is equipped with the said CE. The other Servants on the party are equipped with Afternoon at the Fort and Moment of Bliss for more drops of Dracul Coins and Fragments of Iliad, respectively.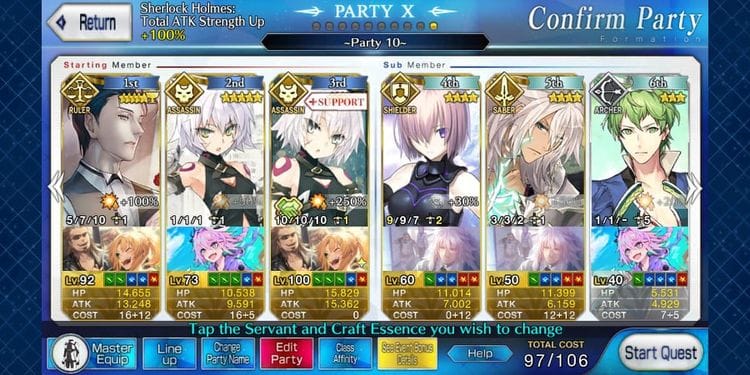 On the other hand, it is preferable to equip Event Drop CEs on Servants that already have event-related power-ups. Remember, the more Event Drop CEs in a party, the more drops you'll get.
What else to expect from FGO?
This year, FGO will have reruns of last year's Summer and Halloween Events, in addition to new ones this 2020. There will also be new events like the incoming GUDAGUDA Strange Tales of the Imperial Holy Grail ~ Far East Devil Battlefront 1945~ and the re-run of the Fate/Accel Zero Order Collaboration Event last 2018.
As for the main Storyline, after the Fate Apocrypha Event, we will be seeing the English release of Lostbelt 2: The Eternal Icy Fire Century : Götterdämmerung. Set in 2000 BC Norway, and around the last quarter of 2020, we will be having Lostbelt 3: The Nation of Unified Intellect, SIN, set in an alternate timeline of Ancient China.